Fisherman - Clash Royale
His Ranged Attack can pull enemies towards him, and pull himself to enemy buildings. He's also mastered the ancient art of 'Fish Slapping'.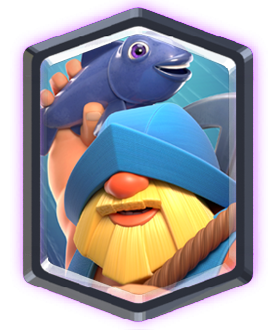 The Fisherman is unlocked in Hog Mountain (Arena 10) and costs 4 Elixir. It is a melee troop and is unique in that it can throw a hook to pull enemy troops towards it or pull itself towards buildings. If a troop is hooked in, the troop will be slowed in movement and attack speed by 35% for 2.5 seconds. While moving to a building with his hook, he can still be damaged, unlike a dashing Bandit.
---
Stats
transport
hit speed
speed
deploy time
range
target
elixir cost
count
type
rarity
arena
release date
Ground
1.5 sec
Medium (60)
1 sec
Melee: Medium
Ground
4
x1
Troop
Legendary
Hog Mountain
1 July 2019
Levels
| Level | hitpoints | damage | damage per second |
| --- | --- | --- | --- |
| 9 | 800 | 190 | 126 |
| 10 | 880 | 209 | 138 |
| 11 | 968 | 229 | 152 |
| 12 | 1064 | 252 | 167 |
| 13 | 1168 | 277 | 183 |
HISTORY
Fisherman Draft event was released on 4/7/2019 so that players were able to get Fisherman before its general release.
The Fisherman will be generally released in August 05 2019 07:00:00 UTC.The Fisherman was generally released on 5/8/2019.
TRIVIA
The Fisherman's hook is comparable to Gene's Super in Brawl Stars, another Supercell game.
The Fisherman and his fish are the subjects of an Emote as one-time reward.
There is a bug which permanently stuns the Fisherman if his hook is interrupted by a stun such as a Zap when he is latched onto the tower and is close enough to not re-initiate his hook mechanic.
STRATEGY
The Fisherman's hook has a range of six tiles. Keep this in mind when deciding where to place him against enemy troops to pull them.
The Fisherman is not good against something with high damage at close range, like a Hunter, because when pulled in front of the Fisherman, the troop will be able to hit the Fisherman, resulting in the Fisherman being easily killed.
On the contrary, the Fisherman can synergize well with close-range melee troops as the Fisherman can pull enemy troops closer to them so the troop is able to hit more easily.
Avoid using the Fisherman to reel in troops that deal high amounts of damage to close targets such as a Mini P.E.K.K.A. or a P.E.K.K.A. as they will easily outdamage and kill the Fisherman up close.
Fisherman can be used as a method for activating the King Tower, by placing him near the King Tower, allowing him to pull building targeting or splash damage troops closer to the King Tower.
If timed correctly, the Fisherman's hook can stop charges like Ram Rider, Prince and Dark Prince.
The Fisherman can be stun-locked by the Electro Wizard. If the Electro Wizard approaches the Fisherman from a distance, the Electro Wizard's stun attack will reset the "charge" of the Fisherman's hook, resulting in the Fisherman restarting its animation until it dies.
The same interaction can be done with the Zappies, however the Fisherman will take out one of the three Zappies before being stun-locked.