Goblin Giant - Clash Royale
This jolly green Goblin Giant stomps towards enemy buildings. He carries two Spear Goblins everywhere he goes. It's a weird but functional arrangement.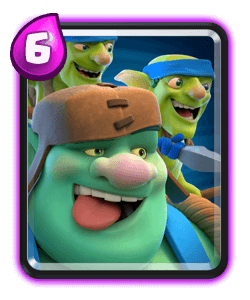 The Goblin Giant card is unlocked from the Jungle Arena (Arena 9). He is a building-targeting, melee troop with high health and moderate damage. He also carries two Spear Goblins on his back, that can attack independently of the Goblin Giant. When he is taken down, the Spear Goblins emerge and continue attacking. A Goblin Giant card costs 6 Elixir to deploy.
---
HISTORY
The Goblin Giant was released on 5/9/2018.
On 1/10/18, a Balance Update increased the Goblin Giant's hitpoints by 6%.
On 7/1/19, a Balance Update increased the Goblin Giant's hitpoints by 3%, and increased the range of the Spear Goblins in the backpack.
On 1/7/19, a 'Rulebook' Update decreased the Goblin Giant's range from 1.25 to 1.2 (now classified as Melee: Medium).
STRATEGY
Using a second unit to tank for the Spear Goblins (such as the Miner) after the Goblin Giant is defeated will allow them to stay on the field longer and deal more damage.
Using Zap on a defending Minion Horde will allow the Spear Goblins to easily finish the Minions off.
The Goblin Giant's unique ability to move and attack in separate patterns allows him to kite units while simultaneously dealing damage to them.
The Goblin Giant's medium speed, high health, and decent damage allows him to be a powerful solo troop to rush towers with.
The Goblin Giant pairs well with Sparky, as the Goblin Giant kills any small units surrounding the Sparky. Be sure to pair this with Arrows to kill larger swarms.
Stats
elixir cost
type
rarity
goblin giant deploy time
goblin giant hit speed
goblin giant speed
goblin giant range
goblin giant target
goblin giant count
goblin giant transport
spear goblin hit speed
spear goblin speed
spear goblin range
spear goblin target
spear goblin count
spear goblin transport
arena
release date
6
Troop
Epic
1 sec
1.7 sec
Medium (60)
Melee: Medium
Buildings
x1
Ground
1.7 sec
Very Fast (120)
5.5 (5 when alone)
Air & Ground
x2
Ground
Jungle Arena
5 September 2018
Levels
| Level | goblin giant hitpoints | goblin giant damage | goblin giant damage per second | spear goblin hitpoints | spear goblin damage | spear goblin damage per second |
| --- | --- | --- | --- | --- | --- | --- |
| 6 | 1,967 | 110 | 64 | 83 | 51 | 30 |
| 7 | 2,164 | 121 | 71 | 91 | 56 | 32 |
| 8 | 2,380 | 133 | 78 | 100 | 61 | 35 |
| 9 | 2,616 | 146 | 85 | 110 | 67 | 39 |
| 10 | 2,871 | 160 | 94 | 121 | 74 | 43 |
| 11 | 3,147 | 176 | 103 | 133 | 81 | 47 |
| 12 | 3,461 | 193 | 113 | 146 | 89 | 52 |
| 13 | 3,796 | 212 | 124 | 160 | 98 | 57 |