Royal Hogs - Clash Royale
The King's personal pets are loose! They love to chomp on apples and towers alike - who let the hogs out?!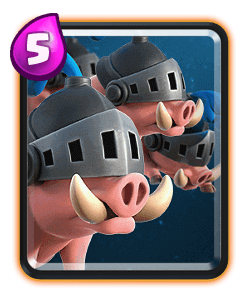 The Royal Hogs card is unlocked from Hog Mountain (Arena 10). It spawns four very fast hogs with helmets. They have moderate hitpoints and low damage and can jump over the river. A Royal Hogs card costs 5 Elixir to deploy.
---
HISTORY
The Royal Hogs card was added to the game on 20/6/18.
On 6/8/18, a Balance Update made the Royal Hogs' first attack quicker.
On 3/9/18, a Balance Update decreased the Royal Hogs' hit speed to 1.2 seconds (from 1.1 seconds)
On 5/11/18, a Balance Update decreased the Royal Hogs' damage by 6%, and reduced their mass by 50%.
TRIVIA
The Royal Hogs have the most health out of all the swarm cards.
The flavor text for the Royal Hogs, asking "Who let the hogs out?!" is a reference to the song, "Who Let the Dogs Out," by the Baha Men.
The Royal Hogs are the subject some of Emotes (one regular set, one Chinese New Year set and one single easter emote.).
In one Special Event Challenge game mode, Royal Hogs are generated by the system for both sides.
STRATEGY
The Royal Hogs are a fast swarm with moderate hitpoints each that jump over the river and only target buildings, similar to the Hog Rider. Traditional methods for countering a Hog Rider usually don't work due to having more than one unit being deployed when this card is used.
The Royal Hogs are excellent rush units at the start of a game due to their fast movement speed and ability to jump over the river.
Dropping Royal Hogs to take out a building can be a good idea, unless it is a Bomb Tower since the splash damage will render their numbers useless.
Royal Hogs can also work in Three Musketeers decks as they can be evenly split when placed in the middle of the river, setting you up for a deadly split push.
Royal Hogs can act as a Lightning Rod for Three Musketeers as each of them have higher health than a Musketeer.
A good counter for Royal Hogs is Bomb Tower which is super effective at taking out these units. A more common counter for them is the Valkyrie, but she is less effective.
Stats
hit speed
speed
transport
deploy time
range
target
count
elixir cost
rarity
type
arena
release date
1.2 sec
Very Fast (120)
Ground
1 sec
Melee: Short
Buildings
x4
5
Rare
Troop
Hog Mountain
20 June 2018
Levels
| Level | hitpoints | damage | damage per second |
| --- | --- | --- | --- |
| 3 | 395 | 32 | 26 |
| 4 | 434 | 35 | 29 |
| 5 | 477 | 38 | 31 |
| 6 | 525 | 42 | 35 |
| 7 | 576 | 46 | 38 |
| 8 | 632 | 51 | 42 |
| 9 | 695 | 56 | 46 |
| 10 | 762 | 61 | 50 |
| 11 | 837 | 67 | 55 |
| 12 | 920 | 74 | 61 |
| 13 | 1011 | 81 | 67 |