Best Decks of Dark Prince - Clash Royale
Best Decks of Dark Prince - Clash Royale - The Dark Prince deals area damage and lets his spiked club do the talking for him - because when he does talk, it sounds like he has a bucket on his head.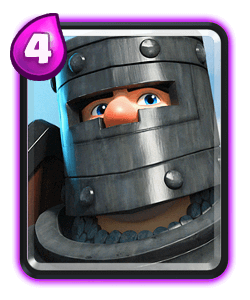 The Dark Prince card is unlocked from the Royal Arena (Arena 7). He is an area damage, melee troop with both moderate hitpoints and damage, and has a shield in addition to his normal health. He has a special ability: as the Dark Prince continues to run, after traveling 3.5 tiles, he will gain a speed boost and will charge up. Upon hitting a troop or building, he will deal 2× damage while immediately losing the speed bonus. However, he can regain it if he starts to move again and does not encounter another enemy for another 2 seconds. Note that his charge attack has a 360º effect, like a Valkyrie, but his normal attacks are directional like a Wizard or Baby Dragon. A Dark Prince card costs 4 Elixir to deploy. The Dark Prince takes an appearance as a man mostly covered in black armor with shining blue eyes, eyebrows, a nose visible and a part of his neck as well. He carries a spiked club and wooden shield and rides a pony the same breed as his counterpart, the Prince.
---