Best Decks of Guards - Clash Royale
Best Decks of Guards - Clash Royale - Three ruthless bone brothers with shields. Knock off their shields and all that's left are three ruthless bone brothers.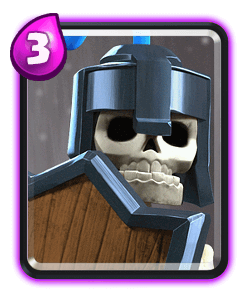 The Guards card is unlocked from the Royal Arena (Arena 7). It spawns three single-target, melee-ranged Skeletons with low hitpoints, medium damage, and shields in addition to their normal health. A Guards card costs 3 Elixir to deploy. They appear similar to the Giant Skeleton due to their underbite but are very different in size. They also have the same diagonal scar as normal Skeletons, but have a few exceptions like wooden spears which Spear Goblins bear, wooden shields, and Dark Prince helmets. They are also a bit larger than normal Skeletons.
---