Santa's Surprise
Ask Santa for the best present there is: a hail of destruction raining down on your enemies!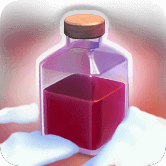 Ask Santa for the best present there is: a hail of destruction raining down on your enemies!
---
---
Stats
radius
random radius
number of strikes
time between strikes
housing space
brewing time
spell factory level required
training cost
1 tile
4 tiles
5
0.1s
2
6m
1
19,000
Levels
| Level | town hall level | total damage | damage per strike |
| --- | --- | --- | --- |
| 1 | 5 | 522 | 104.4? |
| 2 | 6 | 585 | 117? |
| 3 | 7 | 648 | 129.6? |
| 4 | 8 | 711 | 142.2? |
| 5 | 9 | 774 | 154.8? |
| 6 | 10 | 837 | 167.4? |
| 7 | 11 | 900 | 180? |
SUMMARY
The Santa's Surprise Spell creates Santa dropping down explosive presents on a certain area. It essentially serves as a much more powerful Lightning Spell with a larger damage radius, but with much less precision.
This spell was introduced during the 2012 winter theme update. When you cast the 2012 version spell, Santa comes and drops bombs in the form of presents on the defending village for a total of 1,500 damage.
It returned for the time period around Christmas 2016, albeit with heavily reduced damage, and was the first of three "Clashmas" gifts, the second was the Freeze Trap and the third was the Ice Wizard. It was available from UTC 10:00 23/12/16 through UTC 10:00 6/1/17.
If the Santa's Surprise is used in multiplayer mode, it will generate up to five gifts on the opponent's village. These gifts spawn in a similar way as the tombstones, but each one is worth 5000 Elixir instead of 20.
OFFENSIVE STRATEGY
Santa's Surprise functions in a nearly identical fashion to a weaker Lightning Spell.
Like the Lightning Spell, Santa's Surprise is most commonly used to eliminate problematic defenses. Two Santa's Surprise spells will take out a Mortar or a Wizard Tower, and three will take out an Air Defense.
The Lightning Spell is generally preferable over the Santa's Surprise spell, which deals less damage than the Lightning Spell and damages structures much slower.
TRIVIA
Santa's Surprise can't be donated to level 7 Clan Castles, due to being temporary.
Santa's Surprise is the only spell that cannot be upgraded in the normal way due to being temporary, as with the three temporary traps and four temporary troops, the Ice Wizard, Battle Ram, Pumpkin Barbarian and Giant Skeleton.
Since the 19/12/16 update, the Santa's Surprise's stats scale in a unique way. While the spell is unable to be upgraded individually, its stats will automatically increase if you upgrade the Town Hall. At Town Hall level n, Santa's Surprise does $ 63n+207 $ total damage, with each strike doing $ 12.6n+41.4 $ damage.
The Santa that appears upon using the 2016 version of the spell appears to resemble a Hog Rider. His "reindeer" resemble the Hogs that his brethren ride.
Clash of Clans official YouTube channel released a quick video in 2017 announcing the third release of the Santa's Surprise.